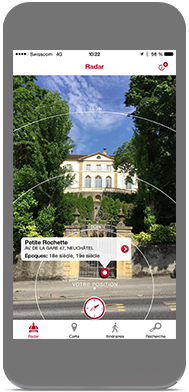 Augmented
reality
Mummy?
What is that house?
The Radar function allows you to identify the building or buildings in front of you in just one click, provided they have been listed and are within a radius of 150Â m. Want to find out more? Click again to bring up a complete article on the history of the building. And because Swiss Art To Go has the gift of speech, it can read the article for you, so that you can focus all your attention on studying the monument.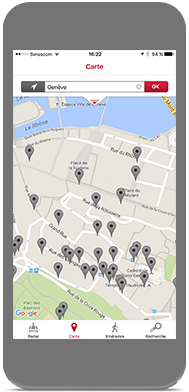 Geolocation
Is there anything interesting
to see in the area?
The map (which uses data from Google Maps) instantly displays the buildings and monuments of interest in a given region, which can be your current location or in any other part of Switzerland. Want to see more? Or less? Simply change the zoom level, and the number of points of interest will automatically increase or decrease. And, as with the Radar feature, one click will give you access to the complete description for monuments that interest you.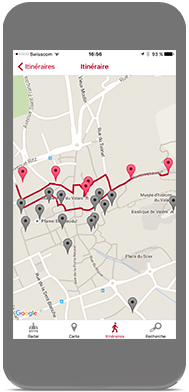 Itineraries
I've got an hour free.
What should I go and see?
If there is something interesting to see where you are, Itineraries will recommend one or more routes depending on the number of buildings or monuments listed within a 2Â km radius. For each route, this feature gives you the number of monuments to visit and the estimated total time it will take. Just click the selected itinerary and it will be displayed on the Google Map. All you have to do is follow the guide!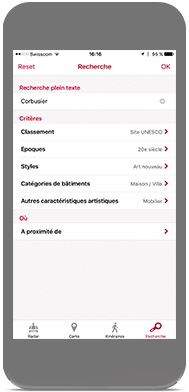 Multi-criteria
search
What if I'm interested in the Romanesque churches
of the Valais region?
Swiss Art To Go is your personal assistant with specialist knowledge of Swiss architecture. In this field, it has the answer to (almost) any question! Buildings by Le Corbusier or those on which he worked? 18th century mansion houses in Geneva? Churches with particularly beautiful stained glass windows in Zurich? Thanks to a multi-criteria search based on location, era, artistic style, building category or type of ornamental detail, anything is possible, including a full text search of the articles. As your assistant thinks of everything, it will give you the results of your search on a Google Map, or as lists sorted alphabetically, chronologically by construction date or by how close each is to your location.